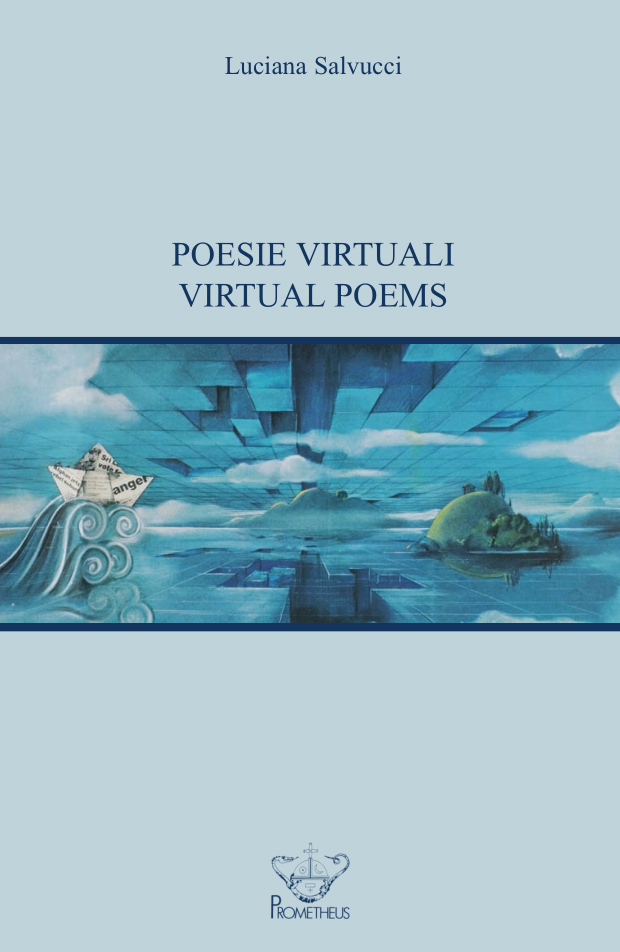 fronte - clicca per ingrandire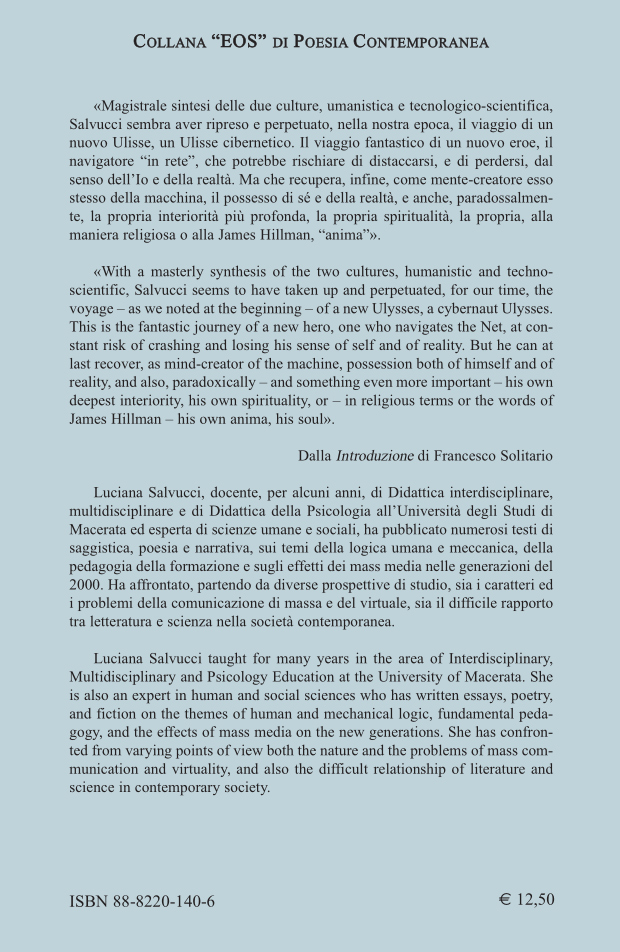 ISBN 88-8220-140-6
Genere: poesia
€ 12,50
«Magistrale sintesi delle due culture, umanistica e tecnologico-scientifica,  Salvucci sembra aver ripreso e perpetuato, nella nostra epoca, il viaggio di un  nuovo Ulisse, un Ulisse cibernetico. Il viaggio fantastico di un nuovo eroe, il  navigatore "in rete", che potrebbe rischiare di distaccarsi, e di perdersi, dal  senso dell'Io e della realtà. Ma che recupera, infine, come mente-creatore esso  stesso della macchina, il possesso di sé e della realtà, e anche, paradossalmen-  te, la propria interiorità più profonda, la propria spiritualità, la propria, alla  maniera religiosa o alla James Hillman, "anima"».
Dalla  Introduzione di Francesco Solitario
***
«With a masterly synthesis of the two cultures, humanistic and techno-  scientific, Salvucci seems to have taken up and perpetuated, for our time, the  voyage – as we noted at the beginning – of a new Ulysses, a cybernaut Ulysses.  This is the fantastic journey of a new hero, one who navigates the Net, at con-  stant risk of crashing and losing his sense of self and of reality. But he can at  last recover, as mind-creator of the machine, possession both of himself and of  reality, and also, paradoxically – and something even more important – his own  deepest interiority, his own spirituality, or – in religious terms or the words of  James Hillman – his own anima, his soul».
Dalla  Introduzione di Francesco Solitario
Luciana Salvucci, docente, per alcuni anni, di Didattica interdisciplinare,  multidisciplinare e di Didattica della Psicologia all'Università degli Studi di  Macerata ed esperta di scienze umane e sociali, ha pubblicato numerosi testi di  saggistica, poesia e narrativa, sui temi della logica umana e meccanica, della  pedagogia della formazione e sugli effetti dei mass media nelle generazioni del  2000. Ha affrontato, partendo da diverse prospettive di studio, sia i caratteri ed  i problemi della comunicazione di massa e del virtuale, sia il difficile rapporto  tra letteratura e scienza nella società contemporanea.
***
Luciana Salvucci taught for many years in the area of Interdisciplinary,  Multidisciplinary and Psicology Education at the University of Macerata. She  is also an expert in human and social sciences who has written essays, poetry,  and fiction on the themes of human and mechanical logic, fundamental pedagogy, and the effects of mass media on the new generations. She has confron-  ted from varying points of view both the nature and the problems of mass com-  munication and virtuality, and also the difficult relationship of literature and  science in contemporary society.