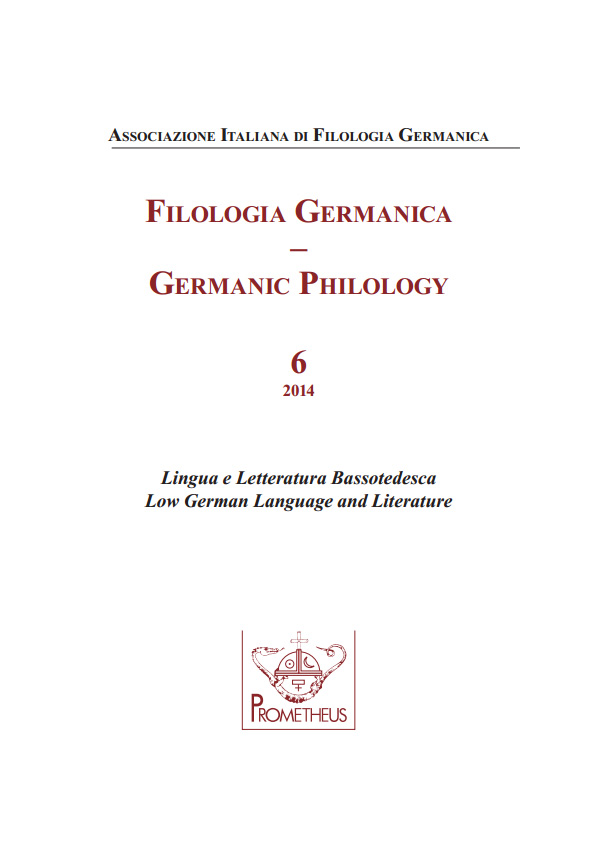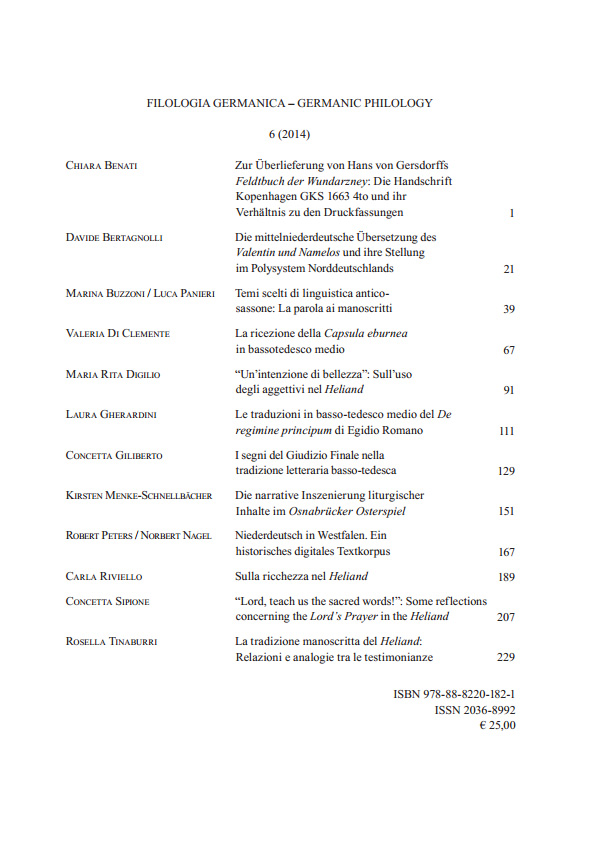 ISBN 9788882201821
Genre: saggistica
25€
La rivista, patrocinata e finanziata dall'Associazione Italiana di Filologia Germanica (AIFG), è attiva dal 2009 ed ha cadenza annuale. Ciascun numero è dedicato ad uno specifico ambito linguistico e culturale germanico ed è curato da un comitato scientifico internazionale composto da studiosi esperti in tale ambito.
Il comitato di redazione è composto dai membri del consiglio direttivo in carica dell'AIFG ed è presieduto dal direttore responsabile del periodico.
Gli articoli sono pubblicati in italiano o in una delle maggiori lingue internazionali e sono provvisti di un abstract in lingua inglese. La rivista si avvale del refereeing anonimo di esperti italiani e stranieri.
Ogni numero della rivista viene pubblicato inizialmente in versione cartacea e, all'uscita del numero successivo, anche in versione elettronica.
Ulteriori informazioni sono reperibili sul sito web della rivista.
***
The journal, which is supported and funded by the Italian Society for Germanic Philology (AIFG), was established in 2009 and is published in yearly volumes. Each volume is devoted to a specific subject concerning the linguistic and cultural Germanic area and is supervised by an international scientific committee composed of scholars specialized in that subject.
The editorial board is composed of the incumbent members of the executive committee of AIFG and is chaired by the journal's editor-in-chief.
Articles are written in Italian or in one of the major international languages and are provided with an English abstract. The journal is peer-reviewed by anonymous referees, both Italian and foreign.
Each issue of the journal is first published on paper and, once the following issue has come out, also in electronic form.
Further information is available on the journal's website.
È possibile acquistare i numeri della Rivista di Filologia Germanica- Germanic Philology dal numero 1 al numero 5 in versione cartacea e dal numero 1 al numero 4 in PDF.
È possibile acquistare in PDF anche singoli contributi della Rivista dal numero 1 al numero 4.
Per informazioni inviare e-mail all'indirizzo: damiana.rigamonti@libero.it
Per acquistare dall'estero in versione cartacea i numeri della Rivista di Filologia Germanica – Germanic Philology contattare il nostro distributore per l'estero Licosa Sansoni srl:
– c.a. Subscription Dept.
Phone: +39 055 6483202/239.
***
To purchase issues of the journal "Filologia Germanica – Germanic Philology" in paper version from abroad, please contact our distributor for sales abroad Licosa Sansoni srl. Email: licosa@licosa.com –
– c.a. Subscription Dept.
Phone: +39 055 6483202/239.