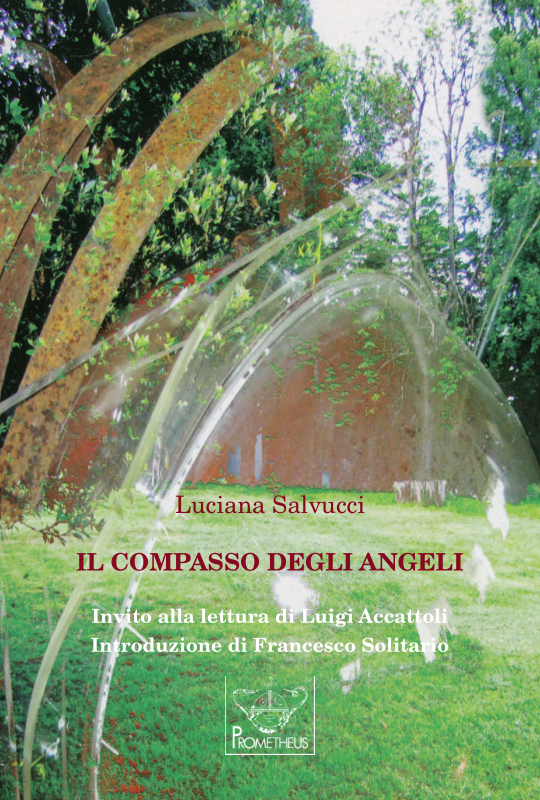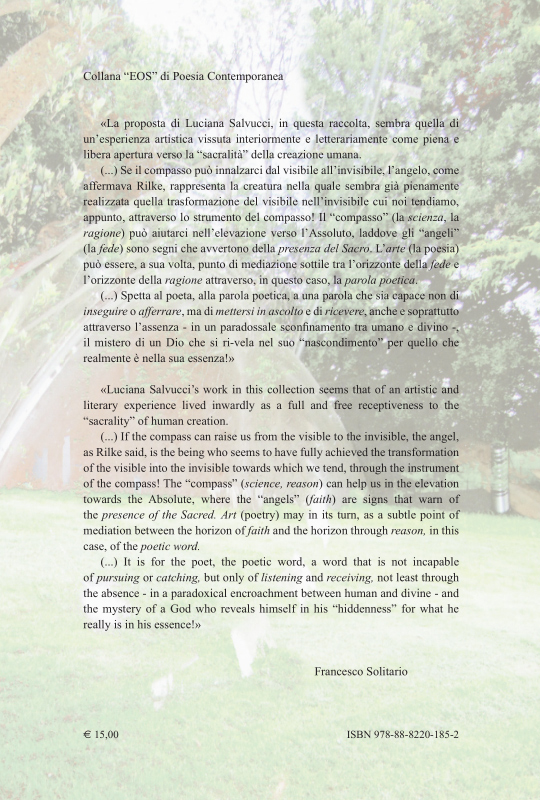 Invito alla lettura di Luigi Accattoli
Introduzione di Francesco Solitario
2010, pp. 240
ISBN 9788882201852
Genre: poesia
€ 15,00
«Luciana Salvucci's work in this collection seems that of an artistic and  literary experience lived inwardly as a full and free receptiveness to the  "sacrality" of human creation.
(…) If the compass can raise us from the visible to the invisible, the angel,  as Rilke said, is the being who seems to have fully achieved the transformation  of the visible into the invisible towards which we tend, through the instrument  of the compass! The "compass" (science, reason) can help us in the elevation  towards the Absolute, where the "angels" (faith) are signs that warn of  the presence of the Sacred. Art (poetry) may in its turn, as a subtle point of  mediation between the horizon of faith and the horizon through reason, in this  case, of the poetic word.
(…) It is for the poet, the poetic word, a word that is not incapable  of pursuing or catching, but only of listening and receiving, not least through  the absence – in a paradoxical encroachment between human and divine – and  the mystery of a God who reveals himself in his "hiddenness" for what he  really is in his essence!»
Francesco Solitario
Luciana  Salvucci  è  attualmente  Dirigente scolastico. Docente, per alcuni  anni,  di  Didattica  interdisciplinare,  multidisciplinare e di Didattica della  Psicologia all'Università degli Studi di  Macerata ed esperta di scienze umane  e sociali, ha scritto di saggistica, poesia  e narrativa, sui temi della logica umana  e meccanica, della pedagogia della  formazione e sugli effetti dei mass media  nelle generazioni del 2000. Ha affrontato,  partendo  da  diverse  prospettive  di  studio, sia i caratteri ed i problemi della  comunicazione di massa e del virtuale, sia  il diffi cile rapporto tra letteratura e scienza  nella società contemporanea.
***
Luciana Salvucci is currently a school  principal. She taught for many years in the  area of Interdisciplinary, Multidisciplinary  and Psichology Education at the University  of Macerata. She is also an expert in  human and social sciences who has  written essays, poetry, and fi ction on the  themes of human and mechanical logic,  fundamental pedagogy, and the effects of  mass media on the new generations. She  has explored from varying points of view  both the nature and the problems of mass  communication and virtuality, and also  the diffi cult relationship of literature and  science in contemporary society.